Surge Protector for Computer, Network, Phone, and Coax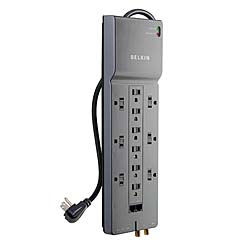 You need this Belkin surge protector because it can protects so many different devices.
It Protects:
Computer Networks via it's in and out RJ45 Ethernet connections. That's great for protecting against surges coming in from your Cable or DSL Modems.
Phone and fax machine with it's RJ11 input connection, and two RJ11 output connections.
Cable TV and Cable Modems via in and out coaxial connections.
Protect stereo and TV audio with it's EMI/RFI noise filters, with up to 75 dB reduction.
12 surge protected outlets with complete 3 line AC protection, and a 3996 Joule energy rating.
Other Features:
10 foot extended 14-guage heavy duty cord.
Right angle plug
Simple detachable cord-management system to reduce cable clutter.
Slim design
Lifetime Product Warranty from Manufacturer.
$300,000 Connected Equipment Warranty from Manufacturer.
Copyright © 2011-2015 Spectrum Research, Inc. / Electricity-Usage.com